A meeting in trilateral format between the Minister of Defense of the Republic of Azerbaijan Colonel General Zakir Hasanov, the Minister of National Defense of the Republic of Turkey Mr. Hulusi Akar and the Minister of Defense of Georgia Mr. Levan Izoria was held on June 12 at the Heydar Aliyev Congress Center in Gabala.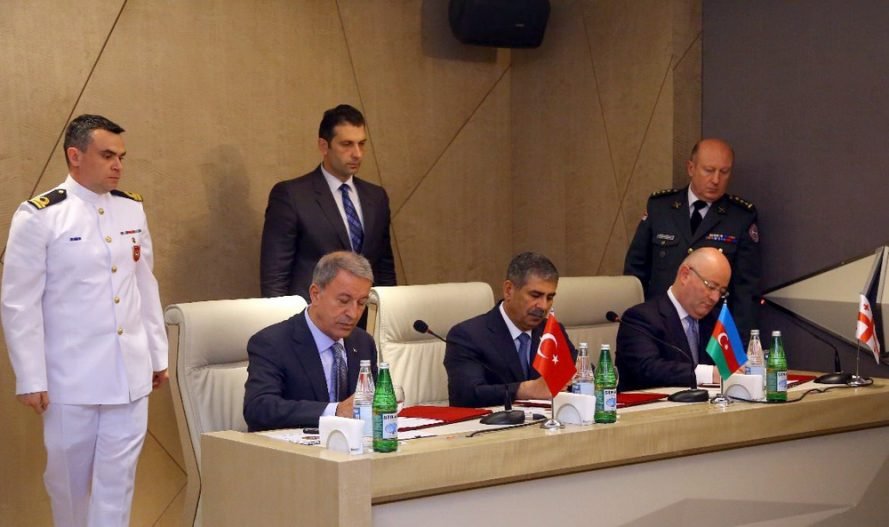 During the meeting, the Defense Ministers discussed the military-political situation in the region, the issues of the development of military cooperation in a trilateral format and the ensuring security of regional projects. The sides also exchanged views on other aspects of mutual interest in the field of trilateral military cooperation.
Minister of Defence of Azerbaijan, colonel-general Zakir Hasanov stated that as in other field, cooperation in the field of defence between three friendly countries successfully continues.
"Memorandum has been signed last year in Turkey. Legal base of our meetings in trilateral format has been created in compliance with the memorandum. Implementation of issues within the cooperation plan has been discussed".
Z.Hasanov stated that fight against terrorism carried out by Turkey is supported by all three sides of the meeting. Territorial integrity of Azerbaijan and Georgia is also supported in the meeting. Works done within defence cooperation is also discussed. I want to note that joint exercises and drills play an important role in defence cooperation. The number of joint drills is annually increasing. For example, there were seven joint exercises with Turkey in 2018. However, we have planned to implement 13 joint drills in 2019. All of them will be implemented by the end of the year".
"We invited Georgian side to join these drills at the meeting. Azerbaijan-Georgia-Turkey joint drills were held within NATO line in Georgia. Several successful exercises had been implemented at mountainous training center in Georgia. All three sides have agreed to implement these trainings and it is decided to continue these trainings", – he add.