DroneShield Ltd. is pleased to announce the release of vehicle-mounted drone detection and defeat product, DroneSentry-XTM. Lightweight at approximately 10kg, compact size and and easily mountable on most vehicles, the product is expected to be of significant interest to a range of DroneShield's customer base globally, across military, law enforcement, security and VIP markets. The product is suitable for both vehicle/convoy and fixed site installations. The product was developed in response to substantial customer interest.
The product is available for purchase now to qualified customers, where lawful, for delivery in 2020.
DroneShield's CEO Oleg Vornik commented, "Vehicle market for counterdrone protection is rapidly rising. In addition to catering for that segment, DroneSentry-XTM provides a more affordable detect-and-defeat solution for price-sensitive customers as an alternative to purchasing full-functionality DroneSentry product from us. DroneShield offers a complete suite of detection and defeat solutions to our customers, and this new product covers the customer need which we identified in our recent engagements".
DroneSentry-X is a cross-vehicle compatible, automated 360° detect and defeat device. It is suitable for mobile operations with roof mounted sensors that can be automatically or manually activated to disrupt drone activity. DroneSentry-X offers the user real-time situational awareness while moving, with the ability to automatically counter drone threats detected by the system. The device can alternatively be deployed at a fixed site or as a temporary pop-up solution, with on site or remote operator access.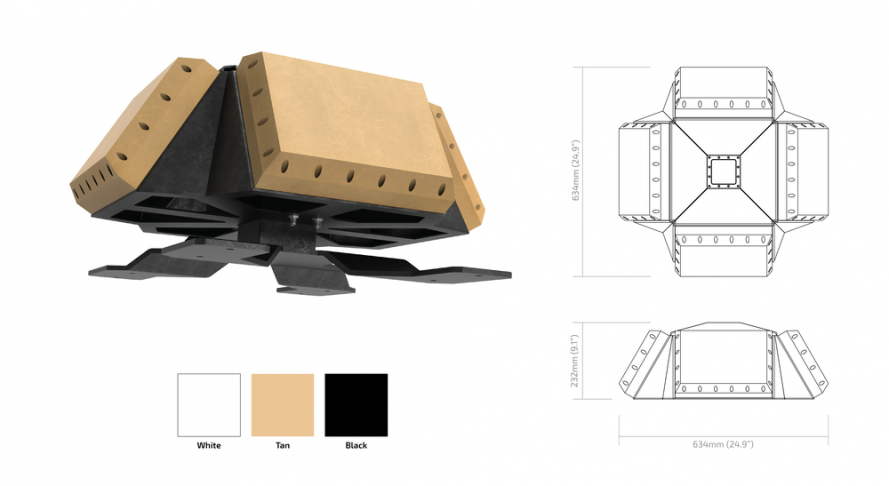 DroneSentry-X provides detection of drones and protection in all directions, with the included digital control panel and display mounted for operator access.
FEATURES OF DRONESENTRY-X:
Integrated Detect & Defeat: Dual capability built into the one unit

Durable Construction: DroneSentry-X is designed to meet military durability standards, with resistance to shock, weather and UV exposure

Swarm Defense: 360° of drone disruption protects the vehicle from multi drone threats (swarms)

Mobile or Fixed System: Can be installed as a temporary or fixed system

Cost Effective Solution: Lower cost solution compared to fixed site DroneSentry systems
SPECIFICATIONS:
Detection Performance:
Nominal UAS detection range: greater than 2km (1.2 miles)
Detects drones operating on consumer and commercial ISM frequencies
Disruption Performance:
Disrupts drones operating on consumer and commercial ISM frequencies. Disruption range greater than 300m
Output Options:
Audio, Visual alerts via Operator Control Module
Environment and Installation:
Dimensions: 634mm x 634mm x 232mm (24.9" x 24.9" x 9.1")
External roof mounted pod designed to IP66
Weight of sensor pod & brackets: 10kg
Operating temperature: -40°C to +60°C (-40°F to +140°F)
Mounting:
Clamps to standard roof racks
Tamper proof mounting options available
Power:
Input: 12VDC (optional 24VDC)
Utilises auxiliary vehicle power supply
DroneSentry-X has not been authorized as required by the United States Federal Communications Commission ("FCC"). This device is not, and may not be, offered for sale or lease, or sold or leased, in the United States, other than to the United States government, its agencies, and its properly delegated representatives, until such authorization is obtained.
The use of DroneSentry-X in the United States by other persons or entities, including, in certain circumstances, state or local government agencies, is prohibited by federal law.
Laws limiting the availability of DroneSentry-X to certain types of users may apply in other jurisdictions, and any sales will be conducted only in compliance with the applicable laws.
DroneSentry-X affects only frequencies at 2.4Ghz, 5.8Ghz and GPS/Glonass (optionally). Emergency broadcasts, cellphone communication and other dedicated channels will not be affected.