At Indo Defence 2022 currently taking place in Djakarta, Roketsan announced its first export deal for its long-range land-to-land missile Khan to Indonesia, a company official said on October 3, Daily Sabah reports. Talking to Anadolu Agency (AA), Roketsan's Assistant General Manager Murat Kurtuluş mentioned the importance of the Southeast Asian market for the company.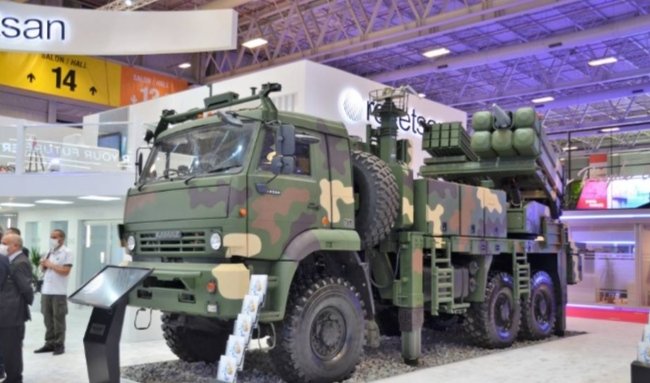 Pointing to Roketsan's product variety, Kurtuluş said, as one of the leading Turkish defense companies, they have signed two agreements with the Indonesian Ministry of Defense under the coordination of Türkiye's Presidency of Defense Industries (SSB). "With the contracts we have signed, we will be offering our first products to the Indonesian Ministry of Defense in the near future. There are two separate issues at stake. The first is the land-to-land long-range artillery system Khan. This system is an important weapon system that is effective with a range of up to 280 kilometers (173.98 miles) and high precision. The second agreement was aimed at layered air defense with two separate systems with medium and long-range".
Kurtuluş, bringing to focus the Indonesian geographical structure, consisting of islands and long coastlines, noted the country's requirement for naval systems and ship-to-ship guided naval missiles.
The Khan missile can hit targets accurately with its inertial guidance system or its GNSS-supported inertial guidance system. It is launched from a canister manufactured by Roketsan or other compatible platforms with suitable interfaces for integration. The launcher platform is integrated on a Multi-Barrel Rocket Launcher (MBRL) vehicle, either 6×6 or 8×8. MBRL provides high efficiency in the field with its technological infrastructure and its ability to be used 24/7 in all weather and terrain conditions. Designed with the ability to quickly deploy and change positions, it also offers the user a ready-to-fire force with a very short firing preparation time.
New missile systems can also be integrated into the MBRL in line with the requirements, alongside the TR-122, TRB-122, TRG-122, TRLG-122, TRG-230, TRLG-230, TRG-300, TRGK-300 and Khan rockets and missiles that it is already capable of firing. With the integration of TRLG-122 and TRLG-230, the system was displayed for the first time at IDEF '21 in Türkiye.
An MBRL battery includes a Command & Control Vehicle, six Launcher Vehicles, six Ammo Supply Vehicles, a Meteorology Vehicle, a Maintenance and Repair Vehicle, and other necessary mission support vehicles. The number and type of vehicles can also be customized according to user requirements.
One of the most important features Roketsan offers with this system is the ability to integrate the Command and Control System and Weapon Management System of the MBRL battery with other systems. Information can be transferred to the system instantly from target acquisition elements such as target acquisition radars or unmanned aerial vehicles.
For the system that can fire rockets and missiles over distances of 10–280 km, Roketsan signed its first export contract in 2014 followed by another in 2019. Logistics support services are ongoing as the deliveries under the first contract have been completed.