According to a tweet from Military News Nigeria dated August 21, 2023, the Nigerian army continues to enhance its military capabilities in anticipation of potential intervention in Niger. Recently, they announced the reception of a new shipment of SH5 105mm and SH2 122mm artillery vehicles from the Chinese defense industry company, NORINCO.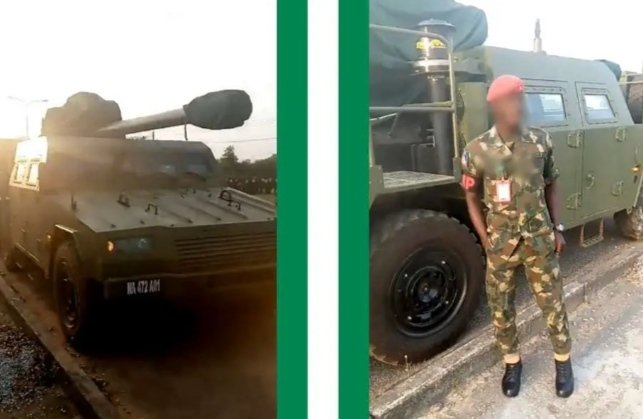 The Nigerian army has taken delivery of another batch of SH5 105mm and SH2 122mm self-propelled artillery vehicles. In total, no fewer than 15 Self Propelled Howitzers have arrived in Nigeria. Given the current situation and the threat of military intervention by ECOWAS in Niger, the strengthening of the Nigerian troops has not gone unnoticed.
The SH5, designed in China, is a self-propelled artillery vehicle equipped with a 105mm cannon. Weighing 11,500 kg, this robust vehicle is designed to reach a maximum road speed of 90 km/h, allowing it to move quickly on the battlefield. Its range of 600 km ensures extended operational autonomy, essential for long-duration missions.
One of the unique features of the SH5 is its computerized fire control system, which is paired with a GPS navigation system. To facilitate movement across various terrains, the SH5 is also equipped with a centralized inflation system.
In terms of protection, the SH5's armor is designed to defend against small arms fire and shell splinters, ensuring the safety of its crew of four soldiers. It has the following dimensions: a length of 8.0m, a width of 2.5m, and a height of 2.7m.
The SH2, like its counterpart the SH5, is a product of Chinese engineering, designed to meet the growing needs of modern armies for self-propelled artillery. It is equipped with a 122mm or 105mm cannon. In this case, the SH2s have a 122mm cannon.
Weighing 11,500 kg, the SH2 shares several characteristics with the SH5, especially in terms of weight, maximum road speed (90 km/h), and range (600 km). However, it stands out for its ability to accommodate a crew of five soldiers, one more than the SH5.
The SH2 is also equipped with a fire control system with GPS navigation and positioning, as well as advanced targeting and communication systems. In terms of protection, the SH2 defends against small arms fire and shell splinters, just like its counterpart, the SH5.
Regarding its dimensions, the SH2 is slightly larger than the SH5, with a length of 8.50m, a width of 2.50m, and a height of 2.95m. This increased size may offer advantages in terms of interior space and storage capacities.
Diplomatic efforts continue, but there is no consensus between the Economic Community of West African States (ECOWAS) and the member countries of the African Union (AU). Following the coup, ECOWAS sanctioned Niamey and called on the military junta to restore constitutional order by August 7, warning of a possible military response if ignored. Although the deadline was overlooked, ECOWAS has consistently indicated its readiness to intervene, as evidenced by the meeting of its member countries' military chiefs held last week. "The date for intervention has been determined," ECOWAS announced on August 18. The strengthening of the Nigerian armed forces, with the arrival of 15 Chinese self-propelled Howitzers, may not be as trivial as it seems.