Raytheon UK is on the brink of a groundbreaking milestone, as it prepares to receive its inaugural high-energy laser weapon system for testing and integration within the United Kingdom. This development represents a significant leap forward in comprehending the practical deployment of such advanced weaponry. Raytheon UK serves as the British division of RTX's Raytheon business.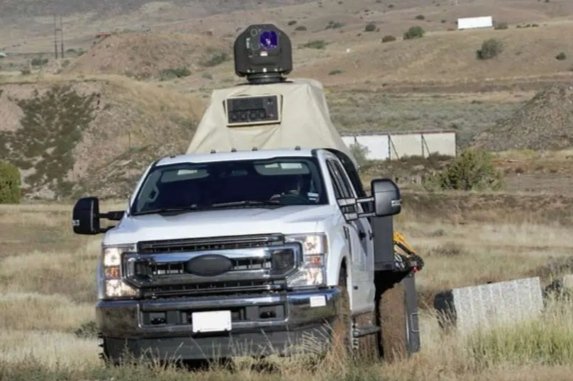 This 15-kilowatt laser system has been meticulously crafted to counter aerial threats, primarily unmanned aerial vehicles (UAVs). It is the latest achievement within the UK Ministry of Defence's Land Demonstrator program, with Raytheon UK having secured the contract in 2021 to design and install this laser system onto a UK Wolfhound armored vehicle.
Julie Finlayson-Odell, Managing Director of Weapons and Sensors at Raytheon UK, emphasized the importance of this transformative technology, stating: "The arrival of this transformative technology is an important milestone in our collaboration with the MoD on using directed energy to address a variety of threats, from drones and UAVs to more complex missile systems. This system is a culmination of decades of investment, research and innovation, and its arrival reflects our continued commitment to help fulfill a key strategic objective of the UK's Integrated Review, which is to understand how directed energy weapons can safely and effectively operate alongside other elements of the UK's armed forces."
The high-energy laser weapon system has demonstrated its mettle in numerous field tests, even under challenging weather conditions encompassing extreme heat, cold, rain, sleet, and snow. During an intensive four-day live-fire exercise conducted earlier this year in the United States, the system proved its capability by successfully acquiring, tracking, targeting, and neutralizing dozens of drone targets across various scenarios, including short-range attacks, swarm attacks, and long-range threats.
Raytheon's high-energy laser weapon system boasts a compact, portable design, making it adaptable for a range of platforms and seamlessly interoperable with other air defense systems. It features a deep, rechargeable magazine and requires minimal logistical support, rendering it a cost-effective and practical choice for safeguarding military assets and critical infrastructure, as well as swiftly countering threats. The system offers an extensive number of shots and unparalleled precision, with minimal collateral damage, presenting an affordable alternative to conventional munitions.
Building upon the success of their endeavors in the United States, where a total of eight high-energy laser weapons have been delivered to the U.S. military, Raytheon UK is actively leveraging this expertise to fortify its capabilities. These systems have an impressive track record, having neutralized over 400 targets during more than 25,000 operational hours.
Raytheon has harnessed cutting-edge technologies to develop holistic and customizable solutions, enabling both military and civilian clients to combat complex unmanned aerial system (UAS) threats across diverse environments. The company has integrated high-performance sensors and cost-effective kinetic and non-kinetic effectors, enhancing threat mitigation efficiency and allowing for tailored responses against a spectrum of potential threats.
Concurrently, with the delivery of the first laser system to the UK, Raytheon UK has officially unveiled its advanced laser integration center in Livingston, Scotland. Announced in July 2022, this facility focuses on the testing, deployment, and maintenance of Raytheon's defensive laser weaponry. It serves as a regional hub, poised to ensure the rapid fielding, maintenance, and repair of laser weapons, further solidifying Raytheon's commitment to advancing laser technology for defense and security purposes.