General Dynamics and Laflamme Aero showcase LX300 Customizable Unmanned Helicopter at DSEI 2021, International Defense Exhibition in London, UK,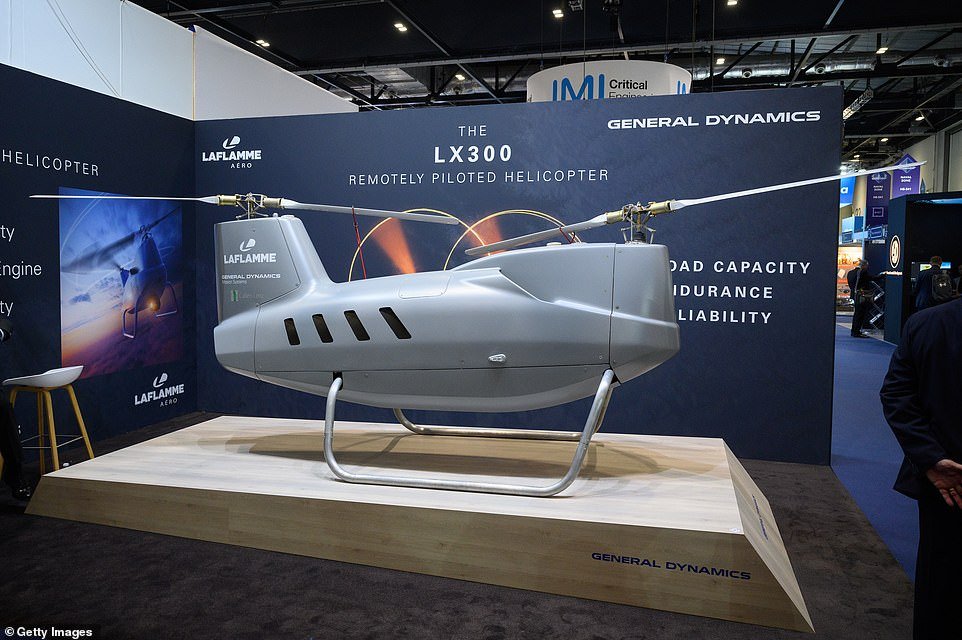 Exceeding the operation limits of smaller UAS and manned helicopter, the LX300, with its tandem-rotor configuration, can tolerate high winds and fly in harsh conditions, like mountainsides. Work can be done where and when it has to be done.
– Purpose-built to complement manned helicopters for various commercial and defense applications.
– Carries multiple mission specific payloads, including radios, EO/IR Gimbal, AIS, RADAR, SAR kits, SKAD kits, castaway first-aid delivery, and more.
– Low total cost of ownership due to the high-reliability components, with high mean time between replacements.
With its small rotor diameters, its blades and fuselage made of composite material, and with its advanced rotor technology, this helicopter is designed to eliminate vibration at sources.
A helicopter reconfigurable for a different mission in minutes.
– Tandem-rotor technology and quick-attach system allow for sustained operations in multiple mission types.
– The M-BARK payload system allows easy integration of up to 180 kg of payloads
– The M-BARK system could be used to attach heavy payloads in the main 200 L [7ft3] payload compartment, or many payloads at different locations.
Thanks to its tandem-rotor configuration and its dedicated autopilot controller, the LX300 offers a large center of gravity (CoG) envelope and an automatic weight-and-balance feature. This means that the autopilot can compensate the rotors' thrust (differential of collective) according to the position of the CoG.
This M-BARK system allows :
– To drop payloads even though they were not located under the CoG position.
– To quickly switch from a payload configuration to another.
– To execute missions that may modify the CoG position (aerial spraying, sling operations, etc.).
DEFENSE AND SECURITY APPLICATIONS
The LX300 is especially well-suited to fulfill the requirements of defense and security applications.
– Maritime Surveillance
– Intelligence Gathering
– Surveillance and Reconnaissance
– Target Acquisition
– Border Surveillance
– Search and Rescue
– Situational Awareness
– Arctic Conditions: Ice Surveying
– Ship Tracking
– Beyond Line Of Sight Reconnaissance
– Communication Relay
Payloads for defense and security can include:
– EO/IR/LRF
-Multimode Surveillance Radar/Synthetic Aperture Radar
– AIS
– LiDAR
– Electronic Surveillance/COMINT
– Communications Relay
– SKAD kits