Hanwha Defense has launched Team Thunder, engaging with UK industry, to bid the K9A2 self-propelled howitzer for the UK. (Hanwha Defense)
South Korea's Hanwha Defense announced the launching of Team Thunder at the DSEI trade show on 14 September, forming the basis for its K9A2 self-propelled howitzer bid for the UK's Mobile Fires Programme.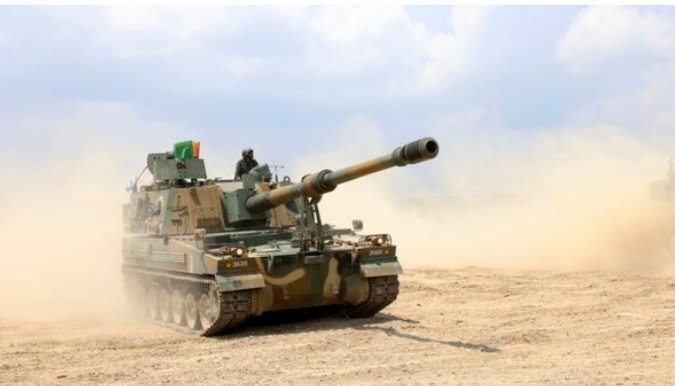 As part of the bid, the company has begun to sign memoranda of understanding with UK companies to form Team Thunder, which comprise Leonardo UK, Pearson Engineering, Horstman Defence Systems, and Soucy Defense. Lockheed Martin UK is also in talks to join the Team Thunder, and more partners may be announced later.
Pasi Pasivirta, director for Business Development in Europe at Hanwha, told Janes that the company "is investigating a local prime solution, but until the formal invitations to tender are released, [we] are continuing to explore opportunities with a range of potential partners".
"There are some capabilities that the UK does not have, and there is no capacity for it, such as gun tube manufacturing, and we are investigating possibilities," Pasivirta said. Gun tubes are expected to come from South Korea, however, the possibility of using tubes from other manufacturers depends on customer requirements.
The company is working to identify UK companies that have strong capabilities in their field, such as Horstman Defence Systems for suspension, and Pearson Engineering for fabrication. The talks with Lockheed Martin UK could extend to work on the turret for the K9A2.
Other requirements can be fitted around customer specifications, with the Australian Army also including an active protection system for their platforms under Project Land 8116 Phase 1, and the Norwegian military requiring additional CBRN protection systems above the standard baseline.