Boeing's MQ-25A Stingray T1 test asset transfers fuel to a US Navy F-35C on 13 September during a flight test mission, in which 125 kg of fuel was transferred over roughly 10 seconds. (Boeing)
The US Navy (USN) and Boeing used the MQ-25A Stingray unmanned aerial vehicle to pass fuel to a Lockheed Martin F-35C Lightning II Joint Strike Fighter receiver aircraft for the first time on 13 September.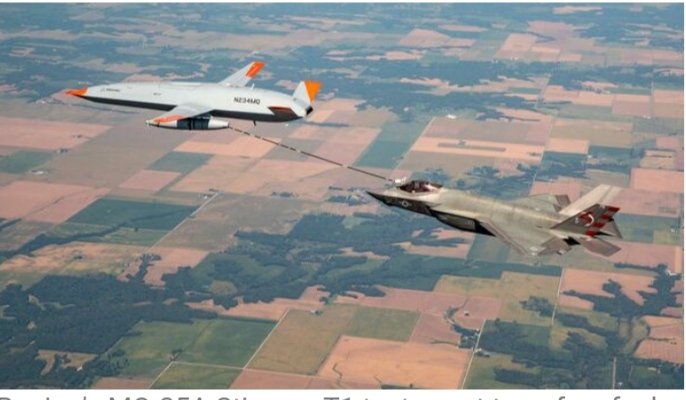 During the three-hour flight, a USN F-35C pilot from Air Test Wing and Evaluation Squadron Two Three (VX-23) approached the Boeing-owned test asset Stingray, MQ-25 T1, and performed formation evaluations, wake surveys, and drogue tracking. It then plugged with the T1 at 225 kt calibrated airspeed at 10,000 ft altitude, according to a USN statement.
Boeing spokesperson Ashlee Erwin said on 14 September that 125 kg of fuel was transferred in approximately 10 seconds. She noted that this amount of fuel was a test offload similar to other refuelling flights the company has performed with the T1, and that operational refuelling will involve greater quantities of fuel.
The USN and Boeing performed two contacts, with fuel transfer taking place on the second contact, said Erwin. The test took place near MidAmerica St Louis Airport in Mascoutah, Illinois.
The T1 will enter into a modification period to integrate the deck handling system to prepare for an unmanned carrier aviation (UCA) demonstration scheduled for the end of 2021. USN spokesperson Jamie Cosgrove said on 14 September that this demonstration will involve the T1 being driven around a flight deck while at sea to evaluate its handling qualities and the functionality and capabilities of the deck handling system.