Rheinmetall and its partner, UVision Air Ltd., are showcasing the Hero Loitering Munition family at DSEI 2023. The Hero Loitering Munition allows frontline forces to benefit from advanced intelligence gathering, target acquisition, and long-range firepower, thereby simplifying operations that previously required complex coordination between multiple units.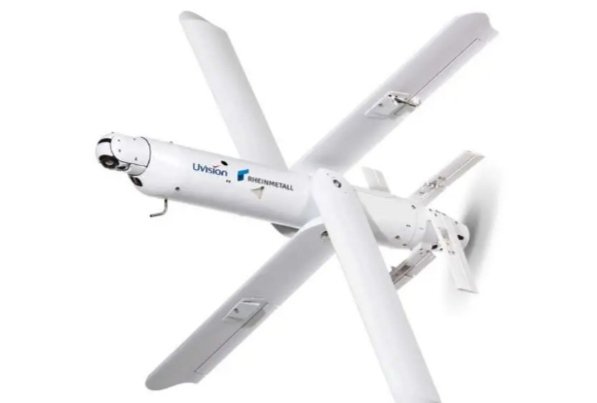 These precision Hero munitions offer contemporary armed forces a blend of operational flexibility, with autonomous target engagement, reconnaissance, surveillance, and intelligence. Operating beyond the line of sight, they locate, track, and engage emerging enemy targets with a low signature.
The Hero autonomous munition systems are designed to hover over target areas, identifying and tracking enemy movements while analyzing potential targets. They assist in selecting high-value targets and determine the ideal timing, direction, and angle of attack before executing a precision strike. The munitions come with multiple warhead options, including high-power fragmentation (HEFRAG), high-power anti-tank (HEAT) with high-performance shaped charges, high-power dual-capability fragmentation and shaped charge (HEDP), and compact tandem shaped charge (Tandem-HEAT) to counter targets protected by reactive explosive armor.
These systems are designed to operate in complex battlefield environments, including scenarios without GPS reception or when radio connections are jammed. Notably, modern armed forces, including key NATO members, have adopted Hero Loitering Munitions for combat operations.
The Hero family includes several models with different characteristics, including Hero-30 with a weight of 3 kg and a range of 10 km, Hero-120 with a weight of 12 kg and a range of 40 km, and other more advanced models like Hero-400EC and Hero-1250 offering ranges up to 200 km.
Hero munitions are already in use by several countries, with a recent notable order from Hungary secured by Rheinmetall in July 2023. Contracts for this order, worth several tens of millions of euros, have been finalized, with deliveries set to begin in 2024 and conclude in 2025.