At the International Defense Exhibition, DSEI 2023 held in London, the British army showcased the latest advancements being pioneered by the UK's defense and security industry. A highlight of the event was the display of the Watchkeeper X, a state-of-the-art unmanned aircraft system, masterfully designed and developed by the renowned British company, U-TacS.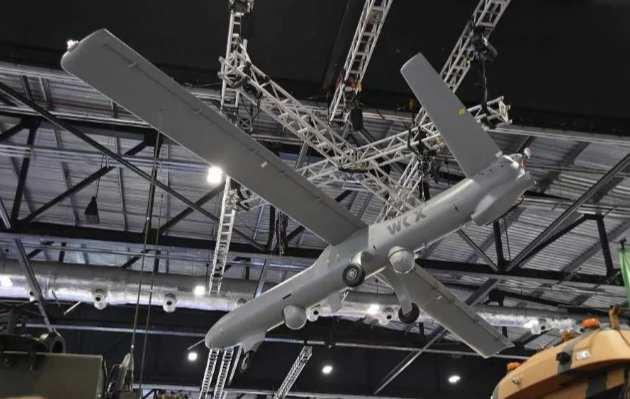 Established in 2005, U-TacS was founded with the primary objective of delivering a unique Tactical Unmanned Air System capability to the British Army. Their Watchkeeper program stands as a testament to their commitment, having seamlessly integrated 40 UAVs equipped with top-tier sensors into an airframe that has proven its exceptional performance and reliability on a global scale.
The Watchkeeper X, a collaborative effort between Thales and Elbit, is a high-performance, tactical drone. It is the export variant of the acclaimed Thales Watchkeeper WK450, which traces its lineage back to the Hermes 450. The drone made its debut at the DSEI 2015 exhibition in London.
While the Watchkeeper X shares similarities with the WK450, it boasts of advanced sensors, including a revamped radar system. Additionally, it is equipped with underwing hardpoints that can accommodate external fuel tanks, pods, and lightweight weaponry such as the Free Fall Light Multirole Missile (FF-LMM) precision-guided glide munition. Adhering to the NATO STANAG 4671 airworthiness standard, the drone's design is modular, meeting both Civil Aviation Authority and Military Aviation Authority standards. Its versatility is further highlighted by its de-icing and rough strip airfield capabilities, allowing for swift deployment in regions without paved airstrips.
A standout feature of the Watchkeeper X is its fully autonomous mission control system, granting independent control over all operational facets. The UAS employs remote terminals to relay data to a ground control station (GCS), capable of managing multiple aircraft simultaneously, ensuring uninterrupted 24/7 surveillance missions.